---
6. 1. HMV/EMI                          
6.1.1 3-CD set released by EMI/Toshiba/Warner
In the UK, HMV (The Gramophone Company) merged with Columbia U.K. to form EMI. In 1990, the year following Horowitz's death, EMI released a 3-CD set containing all the recordings that HMV had released on 78s, except for two pieces (the two were Chopin's Etude Black Key recorded in 1934 and Ballade No. 4 recorded in 1949; however, the latter was released by Naxos afterward). Under the RCA licensing agreement, HMV released some recordings on 78s, but this 3-CD set by EMI doesn't contain any of them. All the 78s of Horowitz's piano performances that were released by HMV under its contract with RCA were later released by RCA/BMG. I will cover them in a separate section. The CD set included performances that were previously unavailable on LP such as Nikolai Rimsky-Korsakov's Flight of the Bumble Bee and Stravinsky's Russian Dance from Petrushka, as well as some pieces that were released on 78s that were unavailable on LP in the U.S., Prokofiev's Toccata that Horowitz performed in 1930 was also included in the EMI CD set. Actually, this piece hadn't come out even on a 78. HMV released the piece by Horowitz on 78s under its licensing agreement with RCA. However, the CD set produced by EMI contained a different recording from the one recorded by HMV (see Table 3). The pieces mentioned above were included in this 3-CD set. See details of the CD set in Table 8 and Appendix III.2. In 2014, Warner released a 3-CD set that contained the first movement of Chopin's Piano Sonata No. 2. The 3-CD set released by EMI didn't include this piece. (The booklet of Warner's CD set mistakenly states that the CD contains the third movement, but in fact it's the first movement.)  
             These 3-CD sets are fundamental for getting to know Horowitz's piano playing style, so they are listed in the Appendix "Important and fundamental CDs."
                      EMI、Toshiba,Warner 
            Table 8 below shows which CDs contain performances by Horowitz that were recorded by HMV. Items A and W are the 3-CD sets by EMI, Toshiba and Warner covered above, and Items B to T correspond to the 19 fundamental CDs by nonmajor labels listed in Appendix III.2.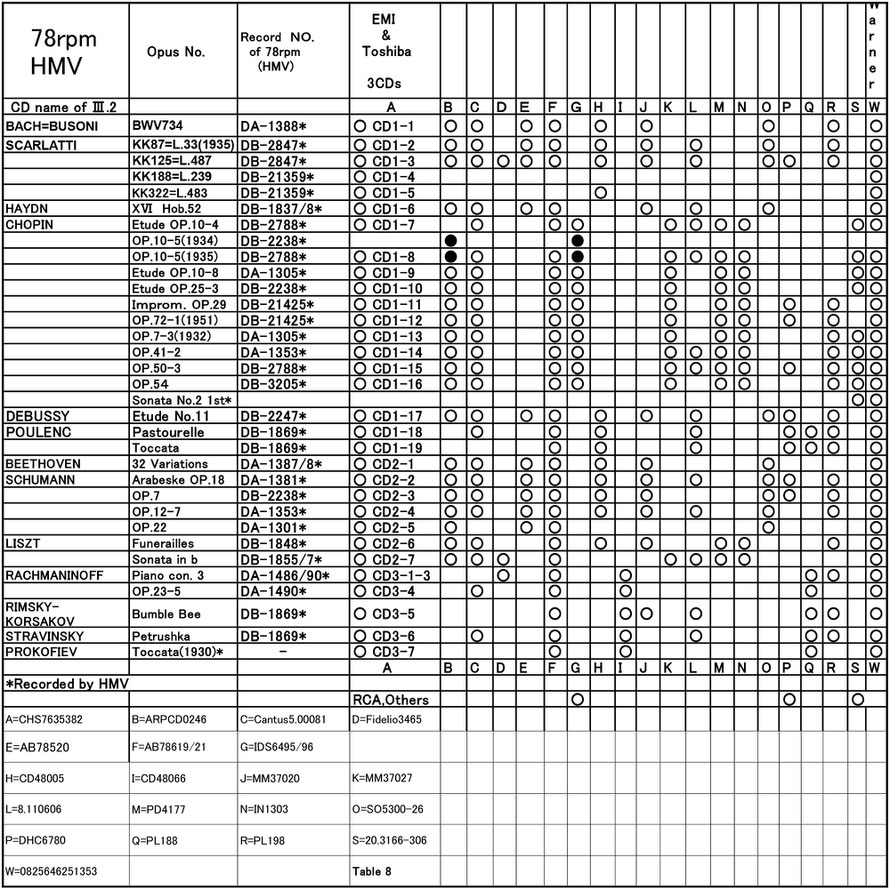 In Japan, Toshiba released a CD of Horowitz in 1991. As you can see from Table 8, the pieces featured on this CD are exactly same as those released by EMI. However, the recording date of Chopin's Nocturne Op. 72-1 is different. EMI gives the recording date as "October 11, 1935", but Toshiba states that it is "October 11, 1951." Warner shows "October 11, 1951," so I decided to use the 1951 date.
              Since 1991, many CDs have been released that contain various combinations of pieces. I have covered those CDs as well. 
        EMIs
            As already discussed above, in 1897, Emil Berliner, the inventor of 78s, dispatched an engineer to the UK in order to expand the use of his new technology there, while he continued to run his own company in Washington D.C. As a result, the Gramophone Company (later to become HMV) in the UK came to have the right to manufacture and sell 78-rpm records. In 1997, EMI reissued the audio sources that it owned as a part of an 11-CD set commemorating the centenary of the gramophone. The CD set came packaged in a black square box together with a booklet with a beautiful red cover. The 11-CD set titled "Centenary Edition: 100 Years of Great Music" contained performances by instrumental artists including singers, symphony orchestras, conductors, and pianists of the last 100 years, organized in chronological order. There was only one performance by Horowitz among these: Chopin's Etude Black Key (Op. 10, no. 5) recorded in London on June 2, 1935. However, the CD collection is very valuable and important from the perspective of the history of music.
    HMV BOX 
6.1.2      CDs reproduced based on HMV 78s (non-EMI labels)
            Since 1990, many 78s have been reproduced on CDs, mainly in Europe. The HMV 78 disc that I have discussed before (Record #DB-2238) was discontinued due to a request from Horowitz right after its release. However, as it was once shipped to the public, I thought a physical disk of this title could exist somewhere. So I waited for a CD reproduced from the music on the 78 to be released. Since Chopin's Etude Black Key by Horowitz, recorded in 1934, had never been reproduced on an LP or CD before, I expected that a recording company would reproduce the existing 78 recording of that performance on CD. Later, two CDs with the 1934 recording date of the piece were released. On the first CD, "Instituto Discografico Italiano IDIS 6495," the date was clearly noted as May 12, 1934, and on the second one, "Archipel ARPCD 0246," the year 1934 only was shown. However, compared with the piece on a CD released by EMI (recorded in 1935), the two 1934 performances seemed to be identical to this 1935 one. So I guess the 1934 recording of this piece hasn't been released on CD yet. 
            Horowitz's performances recorded on HMV 78s were reproduced on many CDs. I have selected 22 titles from among these CDs as the most essential. Some of them contain his recordings by non-HMV labels. I already covered three CDs in the previous section, so I have provided the remaining 19 titles below. There are also some CDs with mixed recording sources that contain some HMV recordings. I will introduce the jacket RCAimages of such CDs in Section 6.6.2. For the pieces on the following 19 CDs, see Appendix III.2.
  CDs reproduced based on HMV 78s (non-EMI labels) 
Note: The free CD covered here was distributed by DHC (a healthy food manufacturer in Japan) and had no record number because it was a special edition of a recording. DHC improved the HMV tape recording by applying noise reduction, equalization and other effects. Then, the edited tape recording was played back on a system equipped with B&W speakers in a concert hall, and recorded in a new DSD format. So this CD provides a more immersive sound than the original one.