---
 When Horowitz signed a new contract with Deutsche Grammophon in 1984, the age of CD had already arrived. He left six CDs to us from his time with Deutsche Grammophon. In Germany, all of the six CDs were also produced as LPs. In Japan, however, the last CD of the six, "Horowitz The Poet," released in 1991 was released only as a CD. After 2003, Deutsche Grammophon released "The Magic of Horowitz" and "Horowitz in Hamburg" as CDs but not as LPs.
 As video was becoming more popular and widespread among the general public, as already mentioned, Deutsche Grammophon released some videos to meet the needs of the time. See Chapter 7 for the videos. The releasing of new recordings on LP came to an end during this period. 
 Globally, Deutsche Grammophon used almost uniform jackets that were not very distinguishable from each other in terms of their design. The LPs released in South America are also the same in design, but the words on the jackets are translated. 
 The following photos A to F show the jackets of LPs that were produced by Deutsche Grammophon. The Grammy Award winners are marked with an asterisk (*).
In 2019, Deutsche Grammophon Rereleased full set of Horowitz's recordings to LP format again and new released  LP is  "The Last Concert in Hamburg".
                             Deutsche Grammophon 7 LPs
A HOROWITZ Bach/Busoni/Chopin/Liszt/Moszkowski/Mozart/ Rachmaninov/Schubert/Schumann/Scriabin* 419045-1 (Germany) 1985
Horowitz did not perform in public for more than 18 months after a bitter experience in Tokyo. It was Horowitz's manager, Peter Gelb, who recommended that Horowitz, who had recovered his health, make a video recording. Thus The Last Romantic was recorded in Horowitz's home in April 1985 and an LP of a selection from the video was also released that included nearly all the performances except for short extracts of music he played in a casual manner during conversations. The order of music on the LP is not the same as that in the video. The video is an interesting. See Chapter 7 for more explanation. 
 Deutsche Grammophon pressed its LPs in Germany. The liner notes for the LPs are written in English, German, French, and Italian. No LPs were pressed in the U.S. or the U.K. Thus LPs produced in Germany were exported and released as they were in these countries. However, in Japan, Polydor independently released "The Last Romantic" LP (and the following B to F LPs) with Japanese liner notes on the back cover. This Japanese version is shown in the photographs below. The LP released in South Korea has the same front cover as that released in Germany, so only the back cover of the South Korean LP is shown below.
        A-2 
B Horowitz The Studio Recordings–New York 1985 419217-1 (Germany) 1986  
 This LP contains studio performances made in September to October 1985. Schubert's Three Marches Militaires was recorded for the first time since 1942 for this LP. The LP was also released by ETERNA in East Germany, which was perhaps given a license to do so by Grammophon. A photograph of the LP's back cover is shown below.
         B- 2 LPs
C HOROWITZ IN MOSCOW 419499-1 (Germany) 1986 
This LP is of the live recording of a recital given at the Tchaikovsky Concert Hall in the Moscow Conservatory in 1986. The recital was broadcast around the world and released on video. This LP does not contain two Scarlatti Sonatas, K.87 and 135, Schubert's Impromptu Op. 142-3, or Chopin's Polonaise Op. 53, all of which are included on the video. However, an encore, Rachmaninoff's Polka de W.R., is included on the LP and CD but not on the video. The back cover of the jacket of the Japanese version of the LP is shown here.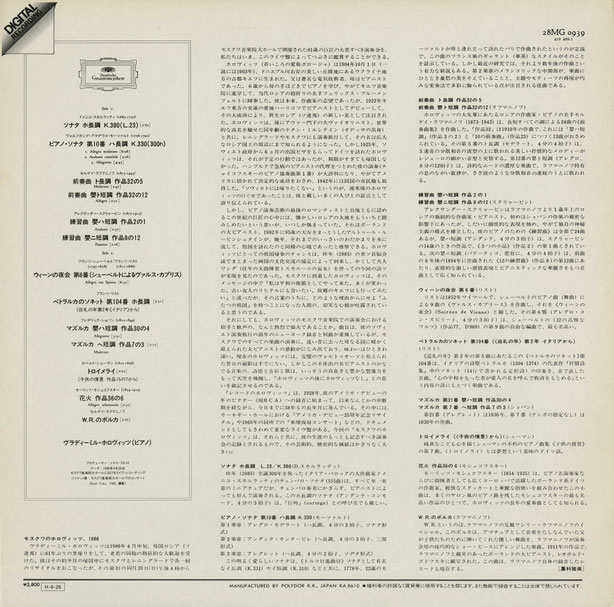 C-1 LP
D HOROWITZ PLAYS MOZART 423287-1 (Germany) 1987 
 This LP consists of two 1987 recordings, Mozart's Piano Concerto No. 23 and Mozart's Piano Sonata K.333, made in Milan with the Milan La Scala Orchestra conducted by Giulini. They were also recorded on video. Up to this point, Horowitz had never released an LP that consisted only of Mozart. Also, he had never played the concerto in public, so this LP was a first for him. The concerto's second movement is truly outstanding. Horowitz seldom played Mozart; he had played K.331 and 332 in recitals around 1947, but he had played K.333 only once, in 1951. It seems that around this time he somehow felt the urge to play Mozart. The video also makes for interesting viewing. See Chapter 7 for an explanation about the video. Only the Japanese LP is shown below.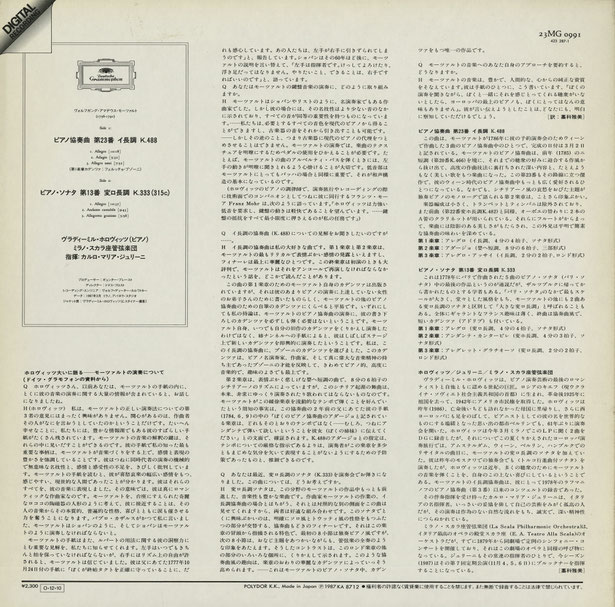 E HOROWITZ AT HOME 42772-1 (Germany) 1989
 I had assumed that Horowitz at Home was the last Grammophon LP of Horowitz released in Germany. However, there were more. In Japan, "Horowitz at Home" was not released on LP, but on CD. The LP released in Argentina is shown below.
          E      2 LPs
F HOROWITZ THE POET  
I mistakenly assumed that this LP was not released anywhere, but I later found that it was actually released in Germany in 1991. I made this incorrect assumption because the LP was not released in Japan. A photograph of the front cover has already been provided, so only a photograph of the back cover follows. This LP is rereleased in 2019.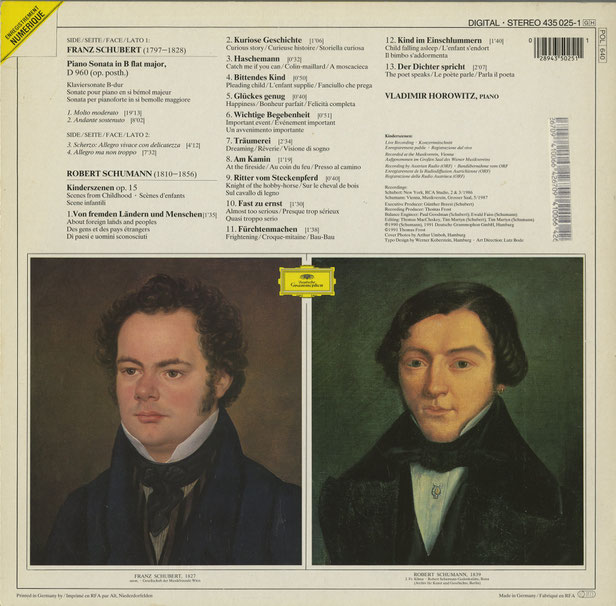 F
 Celebrating the centenary of Horowitz's birth in 2003, Deutsche Grammophon released a CD of a concert in Hamburg and a CD titled The Magic of Horowitz, but no LPs on 2003. But 2019, Deutsche Grammophon release "The Last Comcert in Hamburg" .
G HOROWITZ IN HAMBURG   The Last Concert 
The Last Concert in Hamburg LP released  2019. Contents is same as on CD.
---
---